[CES2010] Neato Robotics XV-11 Hands On
Posted Jan 07, 2010 4:49 AM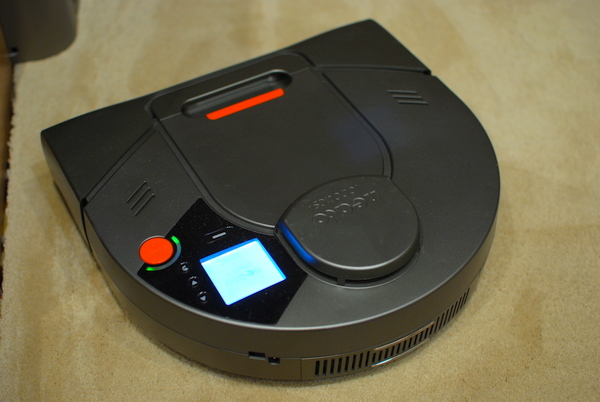 We covered the Neato Robotics XV-11 robot vacuum in detail back in December, and last night at Digital Experience here at CES we got a chance to check it out in person. Just to recap, the Neato is unlike most other robot vacuums in that it isn't a gussied up Roomba knockoff but rather an original design, the flagship feature of which is a laser based room navigation system that can clean much faster and more efficiently than a Roomba's pseudo-random patterns. Check out our earlier post for more details, or just watch the demo, narrated by Neato Robotics CEO Max Safai:
Notice how the XV-11 finished cleaning its little area in exactly the time of the demo... That's precision PR, folks. Seriously though, it's striking just how different the XV-11's cleaning technique is from a Roomba. It undocks, looks around the room, and then makes one circuit around the wall (notice how precisely it avoids its dock) followed by an overlapping pattern to cover the center of the floor. And then, it's done. It moves slower than a Roomba does, but since it knows where it's been and where it's going, overall it cleans much, much faster.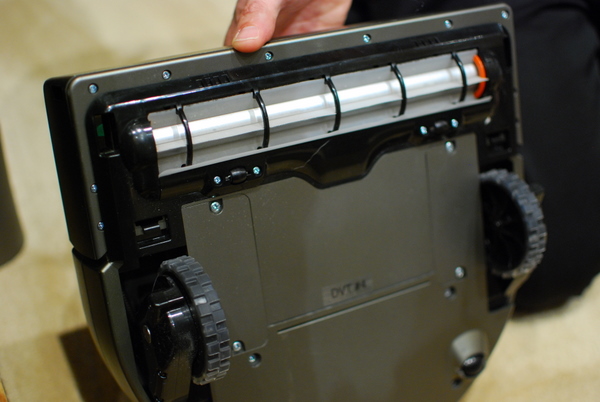 The XV-11 only has one brush on the bottom, and it's supposed to be really good at not getting all kinds of stuff tangled up in it. The dustbin is fairly spacious, and lifts out of the top of the robot, making it somewhat easier to access without either having to lift the robot or get dirt all over the floor, as with a Roomba.
It remains to be seen how well the XV-11 performs in a more realistic environment, like my living room, which is full of furniture, hardwood to carpet transitions, electrical cables, and miscellaneous random crap all over the floor. The key here is going to be whether or not the XV-11 can actually do what the Roomba was supposed to be able to do: vacuum by itself without you having to prep the floor and pay attention to make sure that it doesn't get stuck, try to smash things, or kill your pets.
You'll be able to get an XV-11 in March, for $399... It's significantly more expensive than an entry level 500 series Roomba, but it also has the potential to be a significantly better vacuum. If you have any questions, just post in the comments and I'll get answers for ya, in person.
[ Neato Robotics ]
BTW, that iRobot patent from 2008? Neato knows about it but says it's not a factor due to several examples of prior art.\